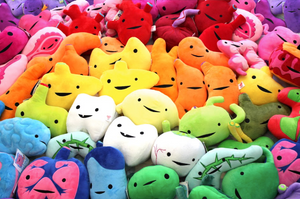 I Heart Guts® award-winning plush organs bring a smile to your face and smarts to your brain!
Happy plush organs made with love, style and brainy body facts! Hug your way to health with I Heart Guts organ plushies, the perfect gift to give surgery, disease and chronic health struggles a soft touch. Brighten a get-well package with weird and wonderful squishy plush body parts!
Get your feet wet in anatomy or bone up on your physiology with the Original Plush Organs, as seen in People, Entertainment Weekly, The New York Times, Washington Post and Buzzfeed. You'll find our gutsy pillows in top science and health museums, award-winning hospital gift shops and trend-setting toy stores. Not to brag, but our plush organs were named Best of Toy Fair by Popular Science magazine and Best Educational Plush Toy by Creative Child magazine.
Guts doing Good
Non-Profit Support
We wish we could heal people, but we just make fake organs! That's why give to Partners in Health, Doctors Without Borders, MedShare, Planned Parenthood, Morehouse School of Medicine and Black Nurses Rock so those brainiacs can do their good work. We also donate gutsy merch to non-profits and hospitals to help raise money, awareness and lift spirits.
The Original Plush Organs are the brainchild of Wendy Bryan Lazar, an illustrator with an unhealthy human body obsession. Our bare-bones family operation has made charming anatomy toys with love, style and geeky puns since 2005. We operate out of sunny, smoggy Los Angeles and live to serve our customers the best in educational and ridiculous medical plush toys. Because life takes guts!
Your body is amazing and so are you! Get to know your guts, from the Adrenal glands to the Zonules of Zinn (in your eyeballs), in Meet the Guts. Or, if you need some huggable retail therapy, we got plenty of plush guts we want to send home with you.
★★★★★

My granddaughter had her tonsils and adenoid removed. She absolutely loved her 'tonsil' plush and it gave her much comfort!

Gerald P.
★★★★★

Who doesn't love a smiling ovary? Got this for my friend and she LOVES it. They are seriously so soft.

Brittany R.
★★★★★

My mother has kidney disease and we have pretty dark humour. I told her I boughther a kidney for Christmas. She absolutely loves it.

Gillian G.
Bought this plush uterus as an icebreaker to have the period talk with a little girl. It is very cute, soft and fuzzy. She loves it.

alldenmik
I love your guts! I have given the stomach to my GI doc, the pancreas to my primary doc, the kidney will be going to my nephrologist, and I have the brain. The docs really love these! And so do I.

Stephanie G.
Your intestine plushies are GREAT because they work as a fantastic post-op cough pillow. I know, this is how I used it!! Honestly, the plushie I had post-op I took everywhere.

Jackie Z.