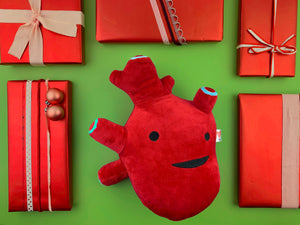 Stylish human body plushies & gifts!
🫁🧠💝Meet I Heart Guts👁️🫀🪱
Funny award-winning plushie anatomy toys bring a smile to your face and smarts to your brain!
✈️ Travel in Style
Turn your penis into a comforting and supportive neck pillow. Foreskin pocket holds all your snacks, cash and goodies. Best penis ever!
gastro gang💩
Feeling Like Crap?
Our colorectal plushies are flush with cheeky cheer when you're down in the dumps. These get-well GI guts will be your #2 favorite gift when life hands you a bum deal.
💪 Our Amazing Customers 💪
★★★★★

Incredible products-high quality, colorful, long-lasting! Fantastic teaching tools and wonderful conversation starters!

Lauren W.
★★★★★

The appendix is so cute and larger than I expected. I was really missing my own appendix and now I have a brand new one.

Kathleen G.
★★★★★

My daughter has a disease that affects her colon and has to have surgery. I bought some plush colons for her surgeon and surgery team who all loved them!

Lori G.
Your intestine plushies are GREAT because they work as a fantastic post-op cough pillow. Honestly, the plushie I had post-op I took everywhere.

Jackie Z.
★★★★★

After a battle with prostate cancer this is a fun way to remind my fiance that he beat that awful disease! Super soft and just a fun idea.

Alison P.
I ordered this for one of my nurse practitioners in our OB-GYN office. She uses the word "****" more in one day that I've heard in my whole life, so this vagina keychain was perfect for her!

Britni H.
★★★★★

I get these bright and colorful pins for myself, students and my lab faculty team to wear in the lab. These pins are a lot of fun, don't cost a lot, and make us all smile.

Anne B.
I love your guts! I have given the stomach to my GI doc, the pancreas to my primary doc, the kidney will be going to my nephrologist... The docs really love these! And so do I!

Stephanie G.
Bought this plush uterus as an icebreaker to have the period talk with a little girl. It is very cute, soft and fuzzy. She loves it.

alldenmik
Peep Our Socials @iheartguts
i heart guts tiktok
👀 Give us your eyeballs 👀
I Heart Guts instagram
Tees, Blankies Totes & Posters!
I Heart Guts T-shirts